When COVID-19 caused an economic shutdown in Texas, Peter Bosma's job changed. Suddenly, he and his team weren't making boats — they were making people safer.
"Charlie Pigeon, the owner of the company, called everybody into his office and said, 'We've got all this downtime, we've got employees who have the skills and talent and desire to come to work every day, what can we be doing to help our community?'" said Peter, a quality control engineer for Tigé Boats. "So right away, we got on the phones and started checking on what it would take to produce PPE (personal protective equipment)."
In the end, the Abilene powerboat manufacturer produced thousands of protective masks and plastic face shields donated to health care providers and first responders. The company's upholstery and lamination departments converted operations to work with new materials and Peter learned to cut plastic with a razor blade.
"It really tested everybody's ability to adapt quickly," he explained. "But we all got together and said 'Hey, if we all pitch in, we can really do something cool.' We wanted to help and everybody was excited about it."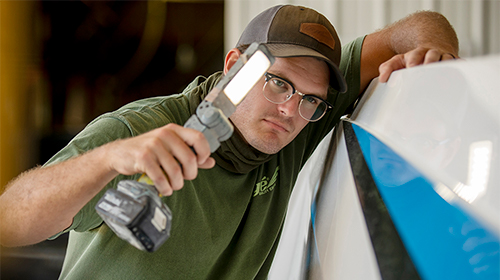 Today, the company is back to making boats and Peter is back to his normal tasks, which include troubleshooting, preparing CAD (computer-aided design) drawings and finding ways to streamline the manufacturing process. But no matter what he's doing, his commitment to protecting himself and his coworkers remains strong.
"I'm a big wakeboarder, so anytime I can go out on a boat and try out a new product with some of the engineering guys, that's my favorite thing," he said. "And I know if I want to keep wakeboarding, traveling and going camping and hiking, I need to make sure I stay healthy. So working safe is definitely important to me."
It's also important to his employer. As a Texas Mutual Insurance Company policyholder, Tigé Boats understands that accident prevention can lower costs, improve productivity and keep good people on the job. It's why they've implemented COVID-19 protocols, require safety glasses and protective equipment, and have mandatory safety training for everything from proper tool use to forklift operation.
"Safety is a core thing," Peter said. "We need to keep everybody safe and keep our business running."
At Texas Mutual, we're proud to be on the job with Peter and 1.5 million other hardworking Texans every day. With our safety programs and training tools, we're changing the way workers' comp works for you. To learn more about our commitment to safety, take a look at our free safety resources or learn more about the benefits of choosing a safety-focused workers' comp provider.